Endpoint Detection & Response (EDR) , Endpoint Security , Network Detection & Response
Palo Alto CEO: Vendor Consolidation Is Fueling Our Growth
Nikesh Arora Says IT Budgets Are Steady Despite Global Economic Woes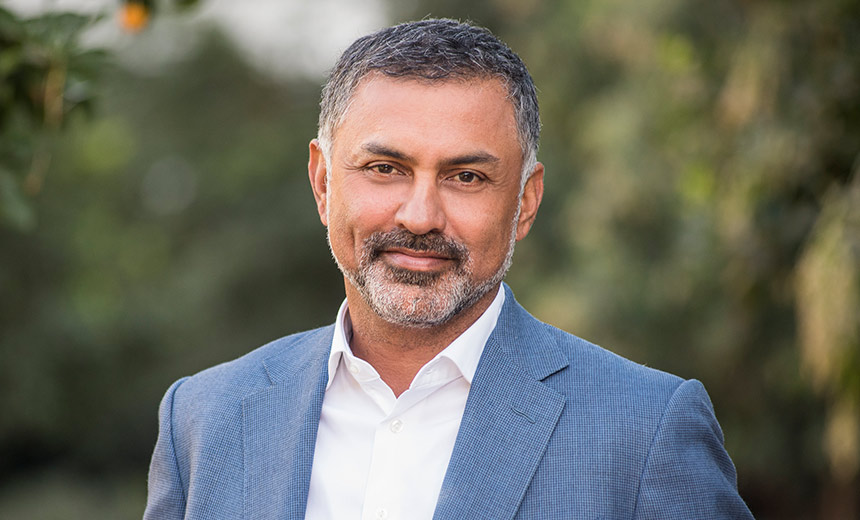 Palo Alto Networks' product portfolio across network security, cloud security and security operations is paying dividends as customers look to reduce their vendor footprint, says CEO Nikesh Arora.
See Also: JavaScript and Blockchain: Technologies You Can't Ignore
The Santa Clara, California-based platform security vendor says its portfolio of 20 products across three technology categories has driven a 73% annual increase in deals worth at least $5 million, Arora says.
"Customers are not suggesting they will buy something you have just because it's in your platform," Arora tells investors on Wednesday.
Arora says 48% of Palo Alto Networks' Global 2000 customers are now buying network security, cloud security and security operations from the company (see: Palo Alto Networks Acquiring Expanse for $800 Million).
"If all you've got is EDR or XDR to sell, if the customer has just bought it, you've got to move on," Arora says. "If all you've got is SASE, you've got to move on if the customer has already bought SASE. But in our case, our sales team has a very large bag of tricks. … We're able to demonstrate that we can help them with a multitude of cybersecurity challenges."
Arora says $1 million deals tend to focus on just one of the company's three platforms, while $5 million and $10 million deals tend to encompass Palo Alto Networks' entire product portfolio. In the company's Strata network security portfolio, Arora says Palo Alto Networks' significant expansion in subscription capabilities over the past several years has driven both vendor consolidation and market share gains.
"We continue to see our customers look for an elevated level of partnership, and this is expanding our market opportunity," Arora says. "We continue to see success in consolidating share within the enterprise market, and this has become a core tenet of our growth strategy."
Going Beyond the Network
When Arora started as CEO in June 2018, the only Gartner Magic Quadrant in which Palo Alto Networks held a leader position was network firewalls. By June 2020, Palo Alto Networks had built out capabilities around endpoint, cloud and security management that allowed the company to deliver tools in five different security fields, Arora said at the time.
Inorganic deals have been key for Palo Alto Networks. The company spent $3.46 billion on 12 acquisitions between early 2018 and early 2021. Arora says Palo Alto Networks realized in 2018 there were going to be a lot of new security products created specifically for the cloud and attempted to get ahead of that trend by making six or seven major deals.
"Whole businesses are being run on the cloud, and the understanding of how important the security is ends up leading to a choice for many customers," says Chief Product Officer Lee Klarich. "Do they try to patch together a whole bunch of different point products?"
All of the capabilities Palo Alto Networks has acquired integrate into the cloud security, security operations or network security platforms. Arora says that allows the company to either sell customers the entire platform or directly compete against smaller niche vendors by offering individual capabilities on a stand-alone basis.
Arora says the impact of the start of COVID-19 was much greater for Palo Alto Networks' customer base than the current challenges associated with runaway inflation and rising interest rates. Arora says industries from oil and tech to commodities and CBD aren't currently stressing about their IT budgets.
"The impact has yet to be felt for companies, and even when it is felt, you'll see it in some constrained industries because there's a real services boom right now," Arora says. "There are more jobs than people to be hired. We're not seeing the pressure from an inflation or reduced economic activity perspective."
Conversely, at the start of the pandemic, Arora says, Palo Alto Networks was getting letters from clients in industries such as oil saying their revenue had dropped to effectively zero with no clear sign of when they could expect to begin making sales again. The fact that the cybersecurity industry has not only survived but thrived during the pandemic makes Arora less worried about the impact of a potential recession.
"You're seeing way more security awareness and concern - more than I've ever seen," Arora says. "We don't hear about the concerns until there's a big ransomware discussion publicly, but trust me, they [private discussions] are going on right now as we speak."
A Path to GAAP Profitability
| Palo Alto Networks | Quarter Ended April 30 2022 | Quarter Ended April 30 2021 | Change |
| --- | --- | --- | --- |
| Total Revenue | $1.39B | $1.07B | 29.1% |
| Subscription and Support Revenue | $1.04B | $785M | 31.9% |
| Product Revenue | $352M | $289M | 21.7% |
| Net Loss | $73.2M | $145.1M | 49.6% |
| Loss Per Share | $0.74 | $1.50 | 50.7% |
| Non-GAAP Net Income | $193.1M | $139.5M | 38.4% |
| Non-GAAP Earnings Per Share | $1.79 | $1.38 | 29.7% |
Source: Palo Alto Networks
Palo Alto Networks' revenue of $1.39 billion in the quarter ended April 30 edged out Seeking Alpha's sales estimate of $1.36 billion. And the company's non-GAAP earnings of $1.79 per share crushed Seeking Alpha's non-GAAP estimate of $1.68 per share. Arora says Palo Alto Networks plans to target GAAP profitability in the near future.
The company's stock is up $47.61 - 10.91% - to $483.98 per share in after-hours trading Thursday. That's the highest Palo Alto Networks' stock has traded since Monday. Palo Alto Networks grew revenue by 30% in the Americas; 28% in Europe, the Middle East and Africa, or EMEA; and 29% in Asia-Pacific, or APAC.
For the quarter ending July 31, Palo Alto Network expects non-GAAP net income of $2.26 to $2.29 per share on revenue of between $1.53 billion and $1.55 billion. Analysts had been expecting non-GAAP net income of $2.22 per share on sales of $1.53 billion.