Endpoint Protection Platforms (EPP) , Endpoint Security
NortonLifeLock-Avast Deal Done, Forming $3.5B Consumer Titan
4th-Largest Security Deal Will Combine Security, Identity, Privacy Tools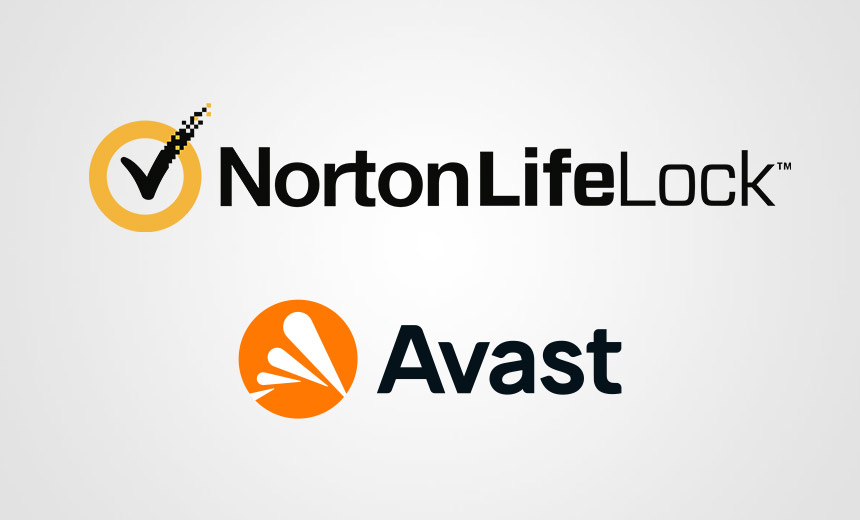 NortonLifeLock and Avast completed their $8.6 billion merger Monday, forming a $3.5 billion consumer cyber protection behemoth with expertise across security, privacy and identity.
See Also: JavaScript and Blockchain: Technologies You Can't Ignore
The combined company will have fewer than 4,000 employees following the integration process and will for now operate under the NortonLifeLock brand, though it's expected to announce a new name soon, according to a presentation by NortonLifeLock investors. The two companies had a combined workforce of about 4,400 employees in June.
The business will have dual headquarters in Arizona and the Czech Republic and be led by NortonLifeLock CEO Vincent Pilette, 50. Avast CEO Ondrej Vlcek, 45, assumed the role of president (see: NortonLifeLock to Buy Avast for Over $8 Billion).
"We believe that everyone deserves the freedom to live their digital lives to the fullest," Pilette says in a statement. "Half a billion users trust us to protect and empower their digital lives, and now that NortonLifeLock and Avast have come together, we plan to redefine and reimagine cyber safety for consumers and small businesses around the world."
From Consumers to Small Businesses
Vlcek wrote in a blog Monday that the merger will allow the combined company to put more resources and expertise into new product and customer experience. The deal will allow NortonLifeLock to move beyond cybersecurity and into adjacent trust-based solutions while expanding from a pure consumer offering into serving small offices, home offices and very small businesses - thanks to Avast's capabilities.
"The speed at which the online world is evolving is a significant threat to freedom in the digital environment," Vlcek wrote in his blog. "The conviction of the importance of protecting this freedom is something that both our companies have in common. We have both always fought for users' online rights through our values and our products."
As NortonLifeLock's new president, Vlcek will receive a base salary of $700,000, the opportunity to earn another $700,000 through a performance-based bonus, a long-term incentive equity award worth $7 million, and an equity award through the company's value creation program that is also worth $7 million, the company said Monday. Pilette received $13.5 million in compensation for the fiscal year ended April 1.
Despite the executive payouts, annual cost synergies of $280 million have been a central selling point of the merger to investors. Some $140 million of the savings will come via adopting shared best practices, cutting duplicate roles and getting down to under 4,000 employees, the company said. NortonLifeLock employed 2,638 people as of June - including 1,200 in the U.S. - while Avast has more than 1,700 staff.
The company leverages Norton and Avast's antivirus heritage to deliver device security, connected home and performance and utility and LifeLock's heritage to provide identity protection and restoration and insurance. NortonLifeLock and Avast will also offer privacy and access and family safety offerings to individuals and families. The joint company has 40 million direct customers and 500 million total users.
The 4th-Largest Cyber Deal of All Time
This is the fourth-largest cybersecurity deal of all time, behind Advent and Permira's $14 billion buy of McAfee in March 2022, Thoma Bravo's $12.3 billion buy of Proofpoint in August 2021 and Broadcom's $10.7 billion acquisition of Symantec's enterprise business in November 2019. McAfee's $1.85 billion in sales is small in comparison to the $3.5 billion of sales NortonLifeLock and Avast are expected to generate.
Nonetheless, the U.K. Competition and Markets Authority backed away from anti-competitive concerns in August and signed off on the NortonLifeLock-Avast deal due to stronger-than-thought competition from rivals such as McAfee and Microsoft. The British agency said that Microsoft has been beefing up its consumer and business security via its Defender suite of security products. The merger plan was first announced in August 2021.
Microsoft "holds a unique position in the market as the owner of the Windows operating system" and its recent security investments "bring its cyber safety offering closer to those of the merging businesses and are likely to further strengthen Microsoft as a competitor going forward," the U.K. agency said in a statement.
NortonLifeLock's revenue for the quarter ended July 1 inched ahead of $707 million, up 3.1% from 686 million the year prior. The company's net income surged to $200 million, or $0.33 per diluted share, up 10.5% from $181 million, or $0.31 per diluted share, last year. On a non-GAAP basis, net income jumped to $265 million, or $0.45 per diluted share, up 6.9% from $248 million, or $0.42 per diluted share, last year.