Next-Generation Technologies & Secure Development , Threat Intelligence , Vulnerability Assessment & Penetration Testing (VA/PT)
Intel 471 Promotes Jason Passwaters to CEO to Land Prospects
Passwaters Wants to Help Intel 471 Capture Business From Less-Mature Organizations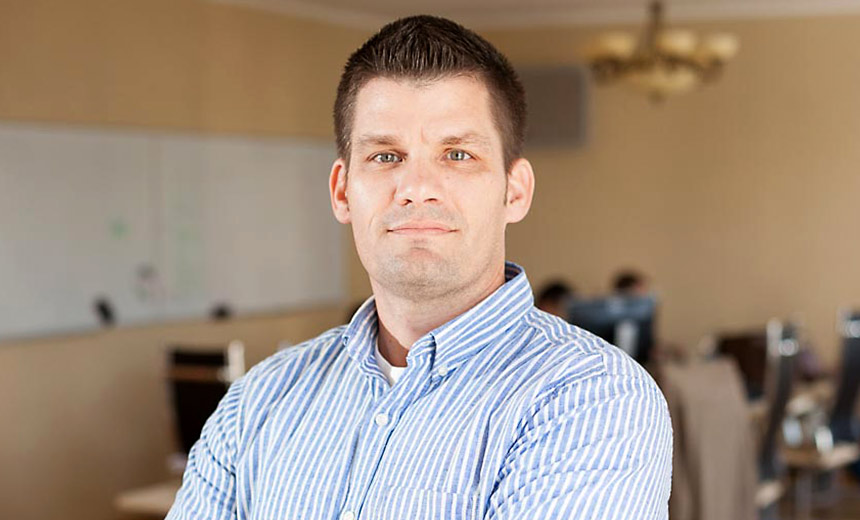 Intel 471 has promoted second-in-command Jason Passwaters to CEO and tasked him with onboarding less-mature security organizations for narrower use cases.
See Also: 10 Belt-Tightening Tips for CISOs to Weather the Downturn
The Delaware-based firm plans to land more threat intelligence customers by going after businesses with a nascent security team and providing discrete offerings in areas such as vulnerability management and patch prioritization, Passwaters says. Intel 471 wants to reach deeper into the market with more affordable offerings and help companies ramp up their intelligence capabilities over a two- to four-year time frame.
"It's no secret that to play in this game is not cheap," Passwaters says. "It's going to be about, 'Hey, how can we package and price something that is going to meet our customers' needs?'"
Passwaters co-founded Intel 471 in 2015 and served as vice president of intelligence until mid-2018 and chief operating officer until November 2022, at which point he took a brief sabbatical. He replaces Mark Arena, who had led the company since its inception and will now serve as a strategic adviser. Thoma Bravo invested in Intel 471 in 2021, and Arena and Passwaters retained significant ownership positions (see: The Underground Tunnel Into the Future of Ransomware).
Managing Patches, Vulnerabilities Takes Center Stage
Passwaters will start at Intel 471's CEO on March 1 and plans to focus on strengthening the company's offering around third-party supplier risk by adding more integrations with third-party vendor supplier management tools such as Aravo and Archer. This will allow alerts to be generated instantaneously when there is exposure rather than forcing analysts to manually determine exposure by looking at a database.
The less mature organizations Intel 471 plans to pursue often have only a single individual dedicated to intelligence and have a shorter time horizon to demonstrate value from the intelligence they've bought, Passwaters says. Intel 471 has a significant presence in the public sector, healthcare, oil and gas, retail and financial services verticals, and it competes most often with Recorded Future and Flashpoint, he says.
"It's no secret that to play in this game is not cheap."
– Jason Passwaters, CEO, Intel 471
Passwaters expects vulnerability management and patch prioritization to be the entry-level use cases for new customers given the massive amount of attention ransomware has received and the proliferation of access brokers seeking compensation for compromising a victim's environment. Pricing is determined by the number of users an organization has as well as which products are included in the bundle, he says.
As organizations fortify their intelligence muscle, Passwaters says, they can expand to NOC and SOC support and mitigating risk from third-party vendors and suppliers. Third-party risk is relevant to companies that are less mature from an intelligence standpoint since any organization doing business globally has a multitude of vendors and suppliers.
Customer, Employee Retention Key to Passwaters
Intel 471's approach to data and intelligence sets the company apart from competitors given Passwaters 11 years in the U.S. Marine Corps working in counterintelligence and serving as a technical surveillance countermeasures specialist. The firm excels at tweaking military and government intelligence for commercial customers and giving them direct access to subject matter experts.
From a metrics standpoint, Passwaters will track whether any customers have eliminated or reduced their spend with Intel 471 as a result of the economic downturn. Intel 471 brought in a chief customer officer to help with customer retention in a down economy and thus far hasn't seen any signs that intelligence spending has been affected by the belt-tightening.
Passwaters also pays very close attention to employee retention since an increase in workforce churn could signal a brewing cultural issue. Intel 471 employs just under 200 people today, and Passwaters doesn't anticipate the company growing its headcount much above 200 workers in the near future.
"I've been here since the beginning," Passwaters says. "We're going to be working to build off the foundation that we've already put in place."