Cyberattack Affects Albanian Government E-Services: Report
Public Services Portal, PM Office and Parliament Websites Offline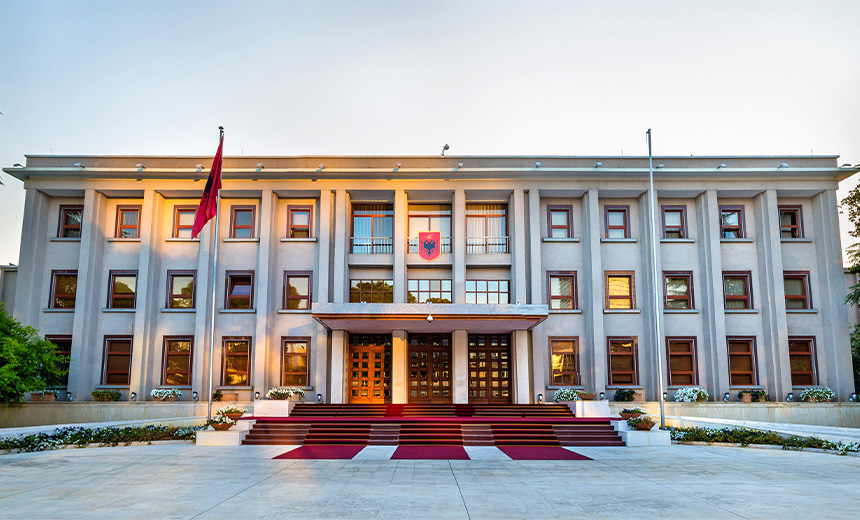 Albania's pivot to digital delivery of government services is being disrupted by a cyberattack that resulted in the shutdown of the national e-services portal.
See Also: Critical Infrastructure Cybersecurity & Risk Monitoring: Elections Infrastructure
A Monday statement attributed to the prime minister's office by local media says the government detected the attack Friday afternoon. It appeared at first to be ransomware but its real goal was to take Albania's government offline, says a copy of the statement posted by the Albanian Daily News.
On Sunday, London-based internet traffic monitor NetBlocks tweeted it observed government online services being taken offline Saturday night.
As of publication, the prime ministerial and parliament websites are offline, as is government portal e-Albania.
"Government systems are all backed up and secure," the prime minister's office says.
The government of Albanian Prime Minister Edi Rama earlier this year told citizens that nearly all public administration services would be shifted online May 1 while in-person facilities would be shut down. It shows that 72% of Albania's population as of 2020 can access the internet.
The government says the cyberattack is similar in pattern to attacks observed in Ukraine, Germany and other European countries earlier this year. There has been an uptick in cyberattacks in these places following Russia's invasion of Ukraine (see: Russia-Ukraine War: Cyberattack Escalation Risk Continues).
The National Agency for Information Society, or AKSHI, is working with Microsoft and the national security consultancy Jones Group International, the prime minister's office says. AKSHI did not immediately respond to ISMG's request for comment.
Confirmed: #Albania's National Agency for Information Society (AKSHI) network has been temporarily shut down to counter a major cyberattack; real-time network data show service cut for hours beginning Saturday night, impacting online government services pic.twitter.com/jkqCi8deaS

— NetBlocks (@netblocks) July 17, 2022