Endpoint Security , Next-Generation Technologies & Secure Development
Why Palo Alto Is Eyeing Secure Browser Firm Talon for $600M
Talon Is in Line for a 9-Figure Deal Just 29 Months After Emerging From Stealth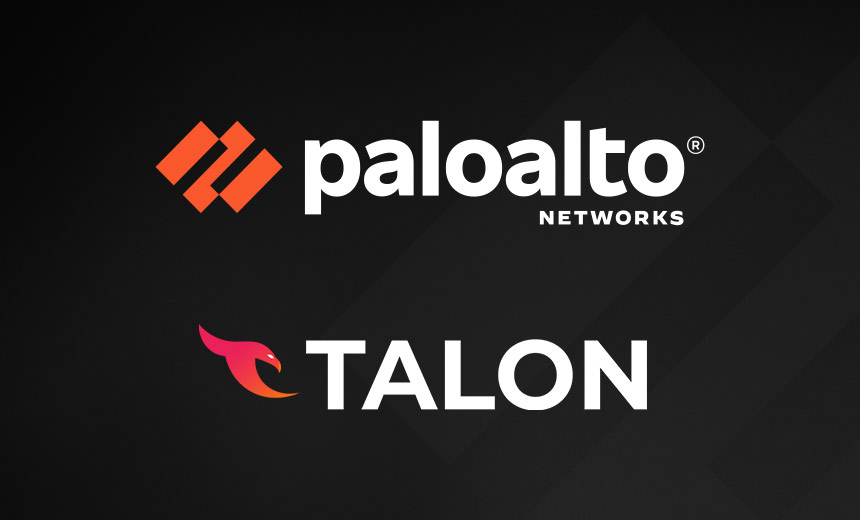 Last year's winner of RSA Conference's prestigious Innovation Sandbox contest could soon be acquired by Palo Alto Networks, according to Calcalist.
See Also: Panel Discussion: Cloud Security in Financial Services
The Silicon Valley-based platform security behemoth is in advanced negotiations to purchase red-hot enterprise browser startup Talon Cyber Security for $600 million, Calcalist reported Wednesday. Palo Alto Networks declined an Information Security Media Group request for comment, and Talon didn't immediately respond to ISMG's request for comment.
Palo Alto Networks' stock was up $0.49 - or 0.21% - to $236.66 per share in trading Wednesday. Reports of the Talon deal emerged nine months after Palo Alto Networks purchased application security startup Cider Security for $198.3 million, which at the time was the company's first major acquisition in nearly two years (see: Palo Alto Networks to Buy Startup Cider Security for $250M).
Talon is based in Israel. Its co-founders Ofer Ben-Noon and Ohad Bobrov live there - along with nearly 80% of the company's 143 employees. CEO Ben-Noon previously co-founded and led automotive cybersecurity vendor Argus for eight years, while CTO Bobrov previously served as chief innovation officer at cloud serverless monitoring vendor Lumigo and vice president of enterprise mobility at Check Point Software.
What Makes Talon Special?
The company, established in February 2021, raised $143 million in two rounds of outside funding and grew its headcount by more than 90% over the past year, according to IT-Harvest. Notable Talon backers include CrowdStrike CEO George Kurtz, Wiz CEO Assaf Rappaport, Armis CEO Yevgeny Dibrov, Orca founder Avi Shua, Evolution Equity Partners, Sorenson Ventures, Team8 and Lightspeed Partners.
"I have never seen a company create and lead a category with such authority and experience such impressive traction with customers so quickly," Evolution Equity Partners founder and Managing Partner Richard Seewald said in a statement. "Talon has the potential to become one of the leading companies in the broader security industry, and it's an honor to help them on their journey."
Roughly half of Talon's employees are in engineering, approximately one-third in operations and the remainder are split across sales and human resources, according to IT-Harvest. IT-Harvest estimates a valuation of between $192 million and $260 million for Talon and annual revenue of $9.6 million - or nearly $73,000 per employee - just 29 months after the company emerged from stealth.
Talon plans to use the $100 million Series A round completed in August 2022 to support additional operating systems beyond Windows and Mac. The company is pushing into the mobile security space with support for Android first and iOS later on and will then add support for more client platforms, including Linux and Chrome OS, Ben-Noon said (see: Talon Cyber Security Raises $100M to Enhance Secure Browser).
"We don't want our customers to compromise," Ben-Noon told ISMG in August 2022. "We want them to have the best experience across every device, every employee and every location in the world."
More recently, Talon teamed up with Microsoft to offer a private service through Azure OpenAI that ensures the model isn't being trained on data input from users and restricts access to less-secure generative AI services. The company also built a DLP compliance model around generative AI services that blocks healthcare information or SWIFT numbers shared with ChatGPT or other generative AI services, he said (see: Talon CEO on Bringing Security, Compliance to Generative AI).
"If organizations are not going to be at the forefront of AI, if they are not going to leverage it, then they are losing a significant opportunity for productivity and for doing much more with their existing workforce," Ben-Noon told ISMG in July 2023. "Everyone would like to enable this capability, but in a way that is secure and compliant."
Would Palo Alto Make a Good Home for Talon?
Talon would build on Palo Alto Networks' existing web protection capabilities, which prevent and detect unknown, evasive and targeted web-based threats such as phishing, malware and command and control. The company today can detect never-before-seen web-based threats and prevent them in real time, and it uses a cloud-based URL filtering database to analyze web traffic and prevent web-based threats.
Palo Alto Networks had a 22-month dry spell in terms of major acquisitions, lasting from the company's $156 million acquisition of cloud security startup Bridgecrew in February 2021 until the December 2022 purchase of Cider. That's a far cry from early 2018 to early 2021, when Palo Alto spent $3.46 billion on 12 deals during Nikesh Arora's first few years as CEO (see: Why Palo Alto Networks Now Wants Cider Security, Not Apiiro).
During that period, Palo Alto bought everything from attack surface management vendor Expanse to SOAR firm Demisto and SD-WAN player CloudGenix. Arora told investors in August 2021 and reiterated in August 2022 that Palo Alto Networks doesn't plan to pursue any major acquisitions since the company already has a product in virtually every category where it wishes to play.
"The public market has rationalized; the private markets probably haven't yet," Arora told investors in August 2022. "It's a bit like real estate, and people remember what the neighbor's house sold and kind of forget what their house is worth. So, until people realize the true value of their house, it's going to be a while longer before acquisitions come into the security market again."