Next-Generation Technologies & Secure Development
Hot Sessions at New Delhi Summit: A Preview
Security Thought Leaders Share Actionable Steps for Creating a Cybersecure Ecosystem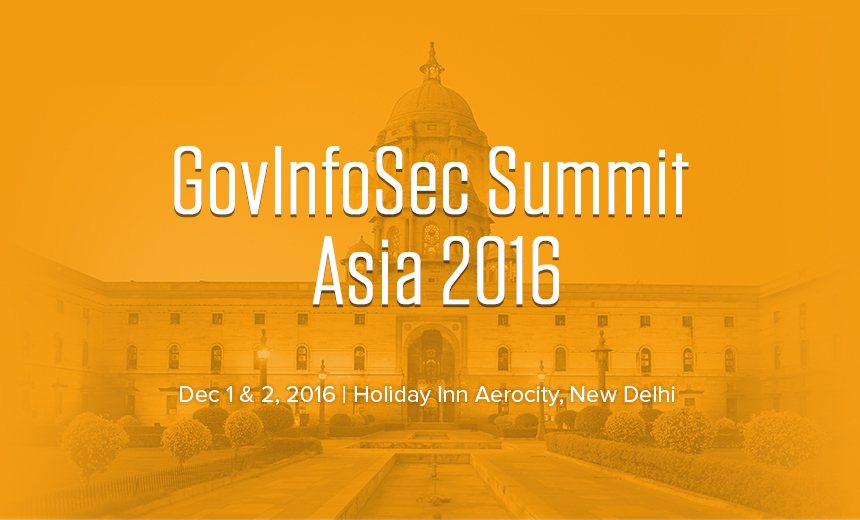 Ransomware, IoT-powered DDoS, APT attacks and other high-profile breaches hit the headlines in 2016. They proved that any data of any perceived value risks being targeted, as well as control of critical services and infrastructure.
See Also: Panel Discussion: Cloud Security in Financial Services
And so with security facing new threats and challenges, spreading best practices and spurring innovation is a must. The government is giving the right push, but much more must be done.
Our mission is to help InfoSec professionals prepare for the next big incident, and our summits have the distinction of creating a learning platform by involving experts from varied critical industry sectors.
Following successful Data Breach Prevention Summits in Mumbai, Bengaluru and Singapore, ISMG now hosts its latest summit in New Delhi on Thursday and Friday, Dec. 1 and 2 at the Holiday Inn New Delhi International Airport.
Information security professionals still seem to rely on traditional defensive mechanisms, which often are not sustainable against increasing threats. Equally worrying is that practitioners in critical infrastructure lack the capacity to adapt new nuances to safeguard their aged and vulnerable systems.
The objective of this two-day, dual-track summit for senior InfoSec, risk, forensic, compliance, cyber law and law enforcement professionals is to spread best security practices and emerging technologies, offering a holistic approach to cyber/InfoSec issues, especially in governance and law enforcement, and also to discuss contemporary challenges concerning security of critical national infrastructure. The broad goal is bringing together stakeholders from the government, industry and education to collaborate on securing India's critical infrastructure against changing threats, imparting lessons on resilience in their organizations and preparing for the prospect of cyber war.
Themes are built around:
India's stakes in nation-state root attacks and how to adapt defences;
Understanding complexities of the dark web and the enemy therein;
How to build a resilient incidence response defence;
Fighting against "Internet of Evil Things";
Challenging the Practitioners' Mind
We have a rich roster of experienced industry speakers, security leaders and subject matter experts sharing real-time insights and challenging practitioners to start thinking and acting differently in securing their environment.
Government and public sector organizations must change their mindset toward security.
What rankles is that the leaders of many organizations are oblivious that they may be the next victim. They lack even basic cybersecurity controls. Tackling this gap demands more education.
Some critical concerns the summit will focus on are:
Scope of ransomware attacks and preparation;
Importance of actionable intelligence, understanding threats and building an effective cyber defence;
The new rules of undeclared cyberwar and how India must respond;
How lack of mandatory disclosure is resulting in incidents and breaches and how to respond to rising complexities;
Shortcomings in the cyber investigation process and contemporary tools and techniques.
Hot Sessions You Cannot Miss
The summit commences with the keynote by Amit Sharma, Additional Director, Office of Scientific Advisor to Defence Minister, Ministry of Defence, on the challenges of increased cyber weapons and cyber threats to national security and ways to tackle them.
From there, eminent speakers will help you understand your enemy inside the dark web and its complexities and building a proactive defense strategy.
The session on breach response and the role of law enforcement by Dr. Muktesh Chander, DGP, Goa Police, will impart lessons on the criticality of preparing operationally and technically to respond to breaches and how and when to engage law enforcement.
You cannot miss the session by Dr. Siva Subramanian on challenges of breach identification and why defenders trail. He discusses proactive and pragmatic strategies for a converged, multidisciplinary approach providing better, timely protection.
Other exclusive sessions include:
"Cyber Policing: The Need of Next Generation Law Enforcement;"
"Inside the Investigator's Notebook: The Role of Digital Forensics In Cyber Investigations," by Sanjay Gautam, DSP, CBI Academy;
"Privacy: You Can't Ignore it Anymore," by Dr. S. Govind, senior director-E-Infrastructure and Internet Governance, MeitY, Govt. of India;
"Building Skills & Capacity of Cybersecurity Professionals--A Pragmatic Approach", by Shameem Khan, Joint Director (Systems), NIELIT.
Panel discussions by security professionals include:
Public Sector Enterprises and Breach Detection: Where Do They Go From Here?
Securing Digital India: Going From a Reactive to a Resilient Security Model.
A key attraction is "Infosec Conversation," a roundtable discussion where participants can voice their opinions. It offers you discussions with your peers and technology providers.
Our mission is to help InfoSec professionals prepare for the next big incident, and our summits have the distinction of creating a learning platform by involving experts from telecom, government, banking, law enforcement and legal and consulting groups, who bring practical lessons on new approaches to fight new threats and protect your critical infrastructure from future breaches.
For more information, please visit ISMG's event page.
Attending the New Delhi Summit? Say hello to me and the rest of the ISMG team, and let us know how you're enjoying the discussion, as well as what topics and speakers you'd like to see at future events.