Cybercrime , Encryption & Key Management , Fraud Management & Cybercrime
Amazon to Shut Down Controversial Encrypted Messaging App
Facing Law Enforcement Scrutiny, Wickr to End Sign-Ups, Close Site at End of 2023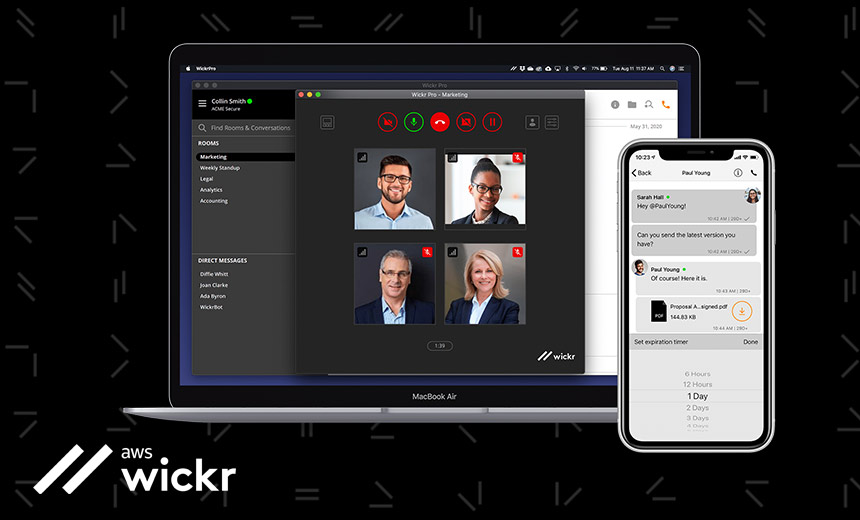 A year after buying Wickr's encrypted instant-messaging app, Amazon will shut down Wickr Me on Dec. 31, 2023. The public version of the app has come under law enforcement scrutiny for allegations that the strong encryption shields drug peddlers and child abusers from prosecution.
See Also: JavaScript and Blockchain: Technologies You Can't Ignore
San Francisco-based Wickr, founded in 2012, uses AES-256 end-to-end encryption to allow users to securely and privately communicate. Amazon acquired Wickr in June 2021 in the midst of the COVID-19 pandemic to secure communication channels for Amazon's enterprise and government partners.
While Wickr Me is open to the general public, Wickr Enterprise and AWS Wickr support encryption requirements for military and law enforcement agencies. Among Amazon's customers are the U.S. Army, Navy, Marine Corps and Air Force, which use the service to encrypt video, chat, text and voice services.
"After careful consideration, we will not accept user registrations for Wickr Me after December 31, 2022, and will discontinue Wickr Me on December 31, 2023. The decision will not be impacting the app's encryption services for enterprises AWS Wickr and Wickr Enterprise," Wickr said on Friday.
Amazon will update Wickr Me users in the coming months and securely save the user data that it has collected so far, the company added.
Amazon did not say why it is closing Wickr Me, but in recent months, the company has come under intense scrutiny from law enforcement agencies for failing to do enough to curb the dissemination of child sexual abuse content using Wickr Me.
In June, U.S. court documents showed Wickr was being used by child abusers in the U.S, U.K. and Australia to share illegal content, and the company was criticized for flagging only 15 such incidents out of 3,500 cases.
In November 2021, the FBI charged a Tennessee resident after being granted permission by a federal court to use his facial ID to unlock encrypted messages in a Wickr group used for sharing child pornographic content.
The messaging app also is believed to be populated by drug peddlers who abuse the app's strong encryption feature to stay under the radar of law enforcement agencies.
Both Amazon and Wickr did not immediately respond to Information Security Media Group's requests for comments.