Next-Generation Technologies & Secure Development , Security Operations
Airbus, Atos Ax Deal for Minority Stake in Evidian Cyber Arm
Aircraft Manufacturer's Bid for 30% Stake in Evidian Splinters on Negotiating Table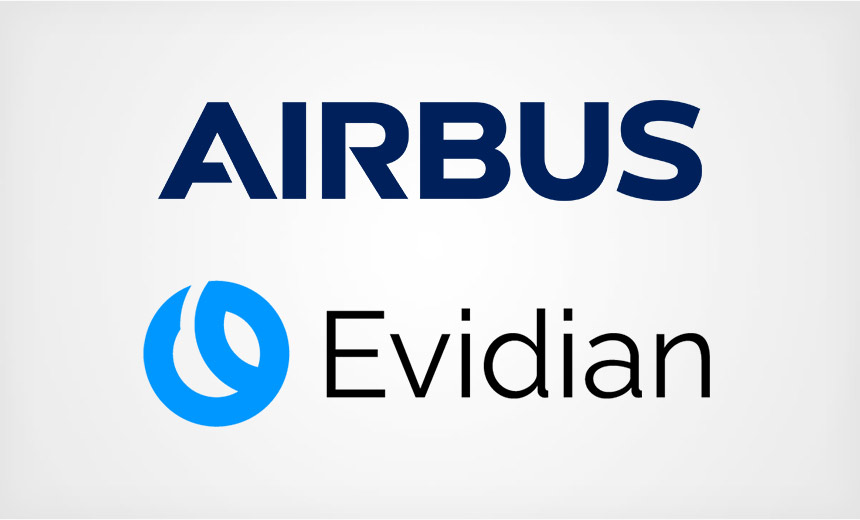 Airbus has halted its efforts to purchase a 29.9% stake in Atos' $5.76 billion Evidian cybersecurity, big data and digital business.
See Also: JavaScript and Blockchain: Technologies You Can't Ignore
The Dutch aircraft manufacturer walked away from the transaction after determining it "does not meet the company's objectives in the current context and under the current structure," a spokesperson told Bloomberg on Wednesday. Airbus said the two companies will continue discussing other potential options for collaboration, and Atos echoed that sentiment.
"Atos confirms it will, with Airbus, explore other options and pursue the work on the long-term strategic and technological partnership between Airbus and Evidian, which has the potential to create significant value for both companies," Atos said in a statement Wednesday. The Paris-based conglomerate hopes to submit an Airbus partnership proposal for consideration to its board of directors.
Atos' stock plummeted $2.33 - or 16.75% - to $11.61 per share in trading on Euronext Paris on Wednesday. That is the lowest the company's stock has traded since Dec. 30. Conversely, Airbus' stock rose by $0.76 - or 2.18% - to $35.62 per share in trading on Euronext Paris on Wednesday - the highest the company's stock has traded since March 6 (see: Airbus Bids for 30% Stake in Atos' Evidian Security Business).
What Went Wrong
Talks fell apart less than six weeks after Atos announced plans to conduct due diligence and initiate negotiations with Airbus around its acquisition offer. Just days after Airbus' interest in Evidian was publicly disclosed, hedge fund manager Christopher Hohn published a letter calling Evidian a "highly levered company" and saying a minority investment would "dilute the quality of Airbus' business."
A person familiar with the talks told Reuters that Airbus had determined that financial conditions were not been met for the deal originally discussed by the two parties. Atos values its Evidian unit at $7.6 billion - including $3.25 billion of debt - meaning a 29.9% stake would carry a price tag of $1.3 billion, according to Reuters. Atos last month said it remained open to offers from other parties capable of supporting a major project.
Atos intends to stand up Evidian as a separate, publicly listed company by the end of 2023 and has said it intends to use proceeds from selling partial ownership in Evidian to bankroll its transformation plan for Atos' $6.99 billion infrastructure and data management business as well as its $4.38 billion business and platform solutions unit. Atos will maintain up to a 30% stake in Evidian following the separation.
Neither Atos nor Airbus disclosed how much Airbus had offered to pay for the nearly 30% stake in Evidian. Atos in September rejected a $4.12 billion offer from rival Onepoint to buy Evidian outright. Revenue for Atos' Evidian business in 2022 inched up to $5.76 billion, just 2% higher than the $5.5 billion it reached the year prior - thanks in part to steady strong growth in cybersecurity services (see: Atos Rejects $4.12B Onepoint Bid for Cybersecurity Business).
What a Minority Investment Could Have Accomplished
Having Airbus as an anchor shareholder with a long-term strategic and technological agreement would have boosted Evidian's European leadership and reach in cloud, advanced computing, digital security and digitization, Atos said. The investment would have allowed Airbus and Evidian to generate cross-selling opportunities and enter into new markets such as secure cloud, data management and security.
Combining Airbus' capabilities with Evidian's expertise in managed security services and supercomputing would have created a unique European entity across cybersecurity, public safety, critical national infrastructure and digitalization of the defense sector, according to Atos. Gartner last year recognized Atos as the world's largest managed security services vendor after it grew its practice by 20.9% in 2021.
Airbus has three divisions: a $44.31 billion commercial aircraft business, which grew by 15% in 2022; a $12.04 billion defense and space business, which grew by 11% in 2022; and a $7.54 billion helicopter business, which grew by 8% in 2022. Cybersecurity has been part of Airbus' defense and space unit and includes security operations centers, incident response services and cryptography for NATO countries.